[9/10] PowerUp Heroes Review: Fun Fighting Game with Online Multiplayer
04-03-2012, 02:38 AM
(This post was last modified: 07-02-2012 02:44 AM by dirtyvu.)
Post: #1
dirtyvu
Kinect Freak


Posts: 1,543
Joined: Nov 2010
Reputation: 1
[9/10] PowerUp Heroes Review: Fun Fighting Game with Online Multiplayer
PowerUp Heroes
Official site http://powerup-heroes.ubi.com/powerup-heroes/en-US/
Publisher: Ubisoft
Developer: Ubisoft Quebec
Genre: Fighting
Players: 2 (local, online)
Xbox Live supported?: Yes, online multiplayer
Uses avatars?: Yes
Age group: 10+

PowerUp Heroes - The good
Sharp colorful graphics
Responsive game controls with a variety of custom power moves, suits, and characters
Very easy for anyone to play but rewards you for doing more complex chain combos
Online multiplayer as well as local multiplayer
Exciting combat and blocking system

PowerUp Heroes - The not so good
Cannot install the game to the hard drive
Requires Uplay Ubisoft account

PowerUp Heroes - Story
Volta is a hero who is trying to capture the evil Malignance and ends up chasing him across the galaxy. Malignance reaches Earth where he releases devices called emitters to control humans and build his army. Volta sacrifices himself to stop Malignance, but before he perishes, he passes on his powers to you. It becomes your job to defeat Malignance and his army.
PowerUp Heroes - Kinect experience and gameplay
PowerUp Heroes is a game in the fighting genre. Using basic gestures, you can unleash deadly attacks against your foe, whether it's computer artificial intelligence or human players. The basic controls include pushing your hand forward to shoot a basic fireball, raising your knee to dash toward the opponent, and punching and kick to melee the opponent. You can also sidestep attacks by leaning sideways.
In addition, you wear a pair of Super Suits that you earn as you defeat Malignance's army. Each Super Suit provides you unique powers and moves called Super Attacks. You launch these super attacks by doing certain poses. For instance, one suit has a super attack where you raise your hands and clasp them together and then strike them downward as if you are striking a staff to the ground (very reminiscent of when Gandalf in The Lord of the Rings raised his staff and struck it down to break the bridge). Another super attack will be something like raising your right hand and then throwing it downward to throw down an electrical whip attack (very reminiscent of Indiana Jones raising his whip and striking it downward for a forward attack). Once a super attack is used, there is a delay while that particular super attack recharges. At any time, you can switch between your two suits and use the 6 available super attacks provided by the 2 power suits as long as the super attack moved is fully charged. You can chain multiple super attacks together for more devastating attacks. There are 20 super suits that you can earn.
If you enter into a melee attack, at the end of the melee sequence is a reflex test that you must complete in time called the finishing move. For example, if the finishing move is an uppercut, you have to perform the uppercut quickly. If you fail to respond in time, your opponent will counter and unleash their own attack.
PowerUp Heroes has an innovative blocking scheme. If the opponent initiates a melee attack, you'll receive a string of flash card moves that you must perform in rhythm in order to deflect the opponent's attacks. For example, you may get a sequence such as 1) left hand forward, 2) right hand forward, 3) right hand upward, 4) left hand forward, and then have a kicking finishing move. It really is a fun easy system where you feel like Neo in the Matrix, deflecting every punch/kick.
All the super attacks are very easy to perform and it's quite difficult for the Kinect to misinterpret your motions as each move is very distinct. The melee attacks are adequate. Throwing your leg forward will initiate a kick while any kind of punch will produce a punch. The dash forward is quite easy. The only physical move that is somewhat unreliable is the dodge move that is done by bending your upper torso leftward or rightward.
While the moves are very simple to perform, they do require you put your arms and legs in the appropriate poses and motions. So very young children who throw their limbs around may have a frustrating time with the game. If you do try to flail, often times, it just doesn't do anything or will throw unintended attacks.
Menu navigation is fairly easy and follows the Dance Central model of raising your hand upward or downward to scroll through a list while swiping across your body to select a highlight menu option. While a number of Ubisoft titles are emulating the Dance Central menus, actual implementation of it is not quite as good as what Harmonix created in Dance Central.
The entire package is extremely polished and of high quality. You also get a little comic book in the box.
PowerUp Heroes - Graphics and Sound
PowerUp Heroes is a vibrant, colorful game with some great special effects. It looks like a high quality cartoon. It uses your Xbox avatar as the hero. You can choose to either wear the Super Suit's helmet or choose to have your avatar's head fully visible. The animation is top-notch and the sound ambience is quite good.
Game Name - Multiplayer options
PowerUp Heroes has both local multiplayer and online multiplayer. In local multiplayer, you and your opponent stand side-by-side, both facing the Kinect. You can also play online matches against your friends or others. There are also online leaderboards and achievements.
Conclusion
PowerUp Heroes is an amazing game that every Kinect gamer would be proud to have in their collection. If you ever wanted to experience a fighting game but with a whole body experience, PowerUp Heroes fits the bill nicely. Not only is it easy to pick up and play, it has enough variety where you can tailor your attacks and combos. It's not as strenuous as something like Fighters Uncaged (where it's all melee attacks) because the super attacks allow you to relax and minimize the punching and kicking. It also has local and online multiplayer which is a rarity among Kinect games. Its online multiplayer puts it in the same excellent class as Kinect Sports, Kinect Sports Season 2, and Kinect Adventures as the premier online Kinect offerings.
The only negative I saw from my experience is that the game disc cannot be installed to the hard drive. It's a severe bug. Once you select the option to install to hard drive, you are placed at the progress bar screen. The drive neither spins nor the progress bar updates. There is no recovery back to the dashboard and you cannot exit which means you have to completely reboot the Xbox. Checking the online forums, this seems to be a common occurrence and it may be related to the DVD drive since Microsoft used drives from various manufacturers in assembling the 360. People with multiple 360 consoles (both the original 360 and the newer 360-S systems) report that it may install on one system but not the other system. Exchanging the disc does not seem to solve the problem. While the game runs well off the disc and is fairly fast to load, you still have to contend with the loud DVD-ROM drive. For games I truly love and can imagine playing constantly, I install them to the hard drive for fast load so it's a major disappointment that I can't install PowerUp Heroes.
UPDATE (July 1, 2012):
I saw someone post a solution to the inability to install the game to the hard drive so I'd like to give him credit:
Steakman4: I FIGURED IT OUT!!
What you have to do is sign out of your xbox Live and then install. I ran across the same problem with Gears of War 2, and there is a post on that forum that suggested to sign out of Live, so I decided to give it a shot with power up heroes, and what do you know, it worked!
But don't let that bug keep you from getting this title. It's really a fun time to be had.

Screenshots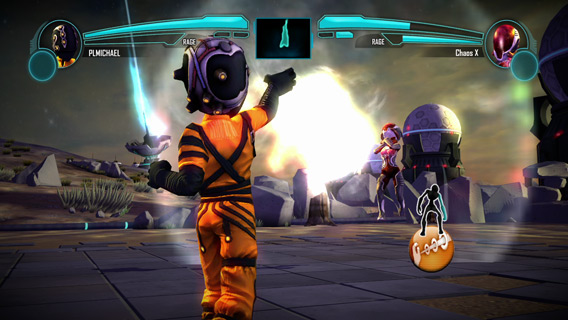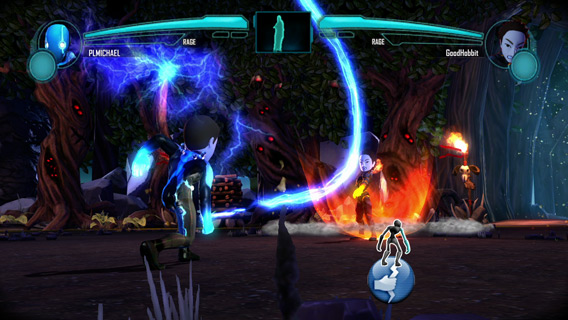 720P Video gameplay
---
User(s) browsing this thread: 1 Guest(s)