Cave's adventure game Instant Brain
11-09-2011, 02:33 AM
(This post was last modified: 11-09-2011 08:24 PM by dirtyvu.)
Post: #1
dirtyvu
Kinect Freak


Posts: 821
Joined: Nov 2010
Reputation: 0
Cave's adventure game Instant Brain
How has this game completely slipped under the radar??? It's from Cave! Cave is famous for the shmups.
it's region free apparently! hopefully there are English subs. but maybe some publisher will publish the game for the US and localize it in English!
http://andriasang.com/comymb/
Cave had a big surprise for attendees of Microsoft's Xbox 360 Fan Appreciation Festival in Akiba event. Taking the stage Sunday afternoon, Cave's Makoto Asada revealed that his upcoming Xbox 360 adventure game Instant Brain will include DoDonPachi.
The shooter has been updated for Kinect compatibility, allowing you to control your ship with your hands (although you can also play with a controller).
http://www.siliconera.com/2011/10/17/ins...t-support/
Cave were in attendance at a recent Microsoft event in Japan, where producer,
Makoto Asada, announced that his upcoming visual novel adventure, Instant Brain, will include DoDonPachi on the disc.
Instant Brain itself supports Kinect as well. A wave of the hand allows you to skip messages in the game. To open up the backlog of text, you raise your hand. If you want to access the options menu, that's done by rotating your palm.
http://andriasang.com/comxs8/
Cave's Xbox 360 exclusive visual novel/adventure game Instant Brain has Kinect support. The hands free gaming device is used for such convenient features as:
Swipe your hand to skip messages
Raise your hand to open the backlog (for reading previous dialogue)
Rotate your hand to select options

Kinect's first visual novel will see release on November 10
http://andriasang.com/comyvv/
The adventure control scheme is shown above. You make selections by moving your hands through icons and holding momentarily when you want to confirm. To skip a message, gesture your hand to the right. To call out the dialog backlog (which allows you to review the conversations), you hold your hand above your head.
That's how the game handles the standard adventure game items. Instant Brain also has a photography component. You use your camera by holding your hands out to ready the camera, then moving your arm into a 90 degree position to snap the pic. You can also select between past pics via gestures.
For the DoDonPachi shooter mini game, shown above, the game fires automatically. You move your ship around with your main control hand. To use your laser, you move your other hand forward. To bomb, you move your other hand over your head.
DoDonPachi (will have kinect controls!!!!):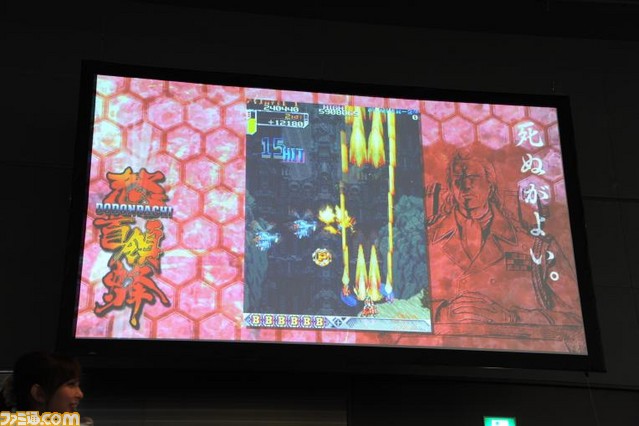 some of Cave's games:
Deathsmiles II
---
11-09-2011, 10:28 AM
Post: #2
RE: Cave's adventure game Instant Brain
Dodonpachi Resurrection has just been released so maybe they could patch that for Kinect too?

http://www.zavvi.com/games/platforms/xbo...66189.html
11-09-2011, 08:25 PM
Post: #3
dirtyvu
Kinect Freak


Posts: 821
Joined: Nov 2010
Reputation: 0
RE: Cave's adventure game Instant Brain
just found out the game is region free. now let's pray there are english subs.

otherwise, pray for a US publisher to pick up the title and localize it.

I think the Kinect is perfect for shmups. Child of Eden's amazing accuracy is a testament to that.
---
11-11-2011, 04:21 PM
Post: #4
RE: Cave's adventure game Instant Brain
A new interview with Cave. As well as talking about Instant Brain they mention they want to make more Kinect games!
Quote:

What other genres is Cave interested in experimenting with?




Recently, I've been experimenting with Kinect games. I think if you start off a game project with Kinect in mind from the very beginning while designing it, I think it can be very interesting. There are a few titles I'm considering to build from the ground up with Kinect.
http://www.siliconera.com/2011/11/10/cav...-in-japan/
User(s) browsing this thread: 1 Guest(s)